A Powerful AI System for the Most Complex AI Challenges
Tackle the world's most difficult AI problems with an extremely powerful AI system. The NVIDIA® DGX-2™ delivers 2 petaFLOPS of deep learning performance in a single system—combining the power of 16 fully interconnected NVIDIA® Tesla® V100 GPUs with the outstanding ease of use of the NVIDIA DGX platform and services.
Note: NVIDIA announced an End of Sale Program for DGX-2 in Summer 2020. Unless you are augmenting an existing DGX-2 deployment, we recommend selecting NVIDIA DGX A100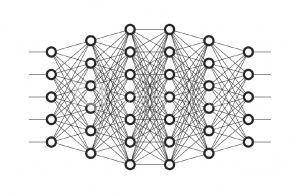 DGX-2 delivers record AI performance. Each system arrives fully integrated with NVIDIA's Deep Learning software stack, which includes:
Major AI frameworks: Caffe, Caffe2, TensorFlow, Microsoft Cognitive Toolkit, MXNet, Chainer, Theano, Torch, & more
Fully containerized deployment with easy-to-use interface
Available containers for HPC applications: Gamess, GROMACS, LAMMPS, MILC, NAMD, VMD, more
Microway is an NVIDIA Elite Solution Provider and one of only a few NVIDIA DGX Advanced Technical Program Partners authorized to deliver the DGX-2 solution. Trust in our expertise as one of the largest NVIDIA DGX solution providers in North America—and in our DGX services practice.

Features

Arrives with fully-integrated Deep Learning libraries and frameworks
NVIDIA DGX Software stack includes:

World's most prolific AI frameworks, installed and ready to train
NVIDIA Deep Learning SDK with CUDA & cuDNN
DIGITS deep learning training system & interface to: help manage training data, design compare and select networks, and monitor performance
Online application repository with AI frameworks optimized by NVIDIA
NVDocker containerized app deployment

Record AI performance fueled by DGX-2 innovations:

16 Tesla V100 GPUs of scale
A unified 512GB of GPU memory space
The enhanced NVIDIA® NVLink™ interface
NVIDIA NVSwitch in a fully non-blocking 12-switch fabric
Specifications
16 NVIDIA Tesla V100 "Volta" GPUs
125 TFLOPS double-precision, 250 TFLOPS single-precision, 2 TensorPFLOPS of performance
81,920 NVIDIA CUDA cores
Total of 512GB of high-bandwidth GPU memory, interconnected with NVSwitch technology
12 NVSwitches with up to 2.4TB/sec of bisectional bandwidth interconnecting the Tesla GPUs
Two Intel Xeon Platinum Scalable CPUs
1.5TB DDR4 2666Mhz System Memory
Eight, Dual Port 100Gbps EDR InfiniBand Adapters
30TB of NVMe storage
10U Rackmount Form Factor
Redundant, Hot-Swap power supplies
Power Consumption: 10kW at full load
Ubuntu Server Linux operating system
Accessories/Options
Complementary Options
Separate high-speed data plane for data sets ranging from TeraBytes to PetaBytes in size (flash or highly parallel disk storage)
DGX-Station for deskside AI training with matching DGX-software stack
NVIDIA DGX-2 Part Numbers
920-22987-2510-000 – NVIDIA DGX-2 System for Commercial and Government institutions (also available with EDU Discounts)
718-V20100+P2CMI12 – NVIDIA DGX-2 1 Year Warranty and Support Services
DGX-2 Services
Bundled Services
DGX-2 deliveries include bundled Microway services including:
DGX Site Planning
A Microway Solutions Architect will provide remote assistance to you and your facilities staff in planning for the DGX-2's unique power and cooling requirements. This includes rack diagramming with airflow and power cabling notation, participation in remote conference calls, and answering queries from facilities staff about support requirements of the DGX-2 hardware.
Deployment Services
All DGX OS and container software will be installed, firmware upgraded to the latest versions, desired DGX-containers installed, and deep learning test jobs run. Customers may supply questions to our experts. In some cases, factory-trained Microway experts may travel to your datacenter.
Optional Services
Microway also offers optional DGX services including: container and/or job execution script creation, and partner-provided Deep Learning data preparation consultancy.
Container or Job Execution Script Creation
Creating an effective workflow is key to your success with any hardware resource. DGX-2's unique container architecture means proper container management and even job execution scripts are a necessity. Microway experts will assist you in creating: your default DGX-2 containers, scripts to orchestrate the DGX-2 containers for multiple users in your organization, and methods of dynamically allocating GPUs as required to containers.
Deep Learning Data Preparation
An overwhelming majority of the time in a deep learning project is spent on the preparation of data. At your option, Microway's data-science consultant partners will engage with you to: to create a custom scope of work, determine the best means to prepare your data for deep learning, create the pre-processing algorithms, assist in the pre-process of the training data, and optionally determine effective means of measurement for the overall DL project. Additional services also available.
Support
All NVIDIA DGX-2s are sold and delivered with a Standard DGX Hardware Warranty and 1 year of DGX-Support services. These Support services can be renewed annually after the first year.
Continuing to renew your Support services ensures you receive the latest DGX software updates (including frameworks) and retain the DGX-2 solution's outstanding SLA commitments.
NVIDIA DGX support provides you with comprehensive system support and access to NVIDIA's cloud management portal. The portal facilitates deep learning experimentation via: containerized application management, job execution, status monitoring, software updates, and matching containers in the NVIDIA GPU Cloud.
| | NVIDIA DGX-2 Support |
| --- | --- |
| NVIDIA Cloud Management | ✔ |
| NVIDIA DGX-2 Software Upgrades | ✔ |
| NVIDIA DGX-2 Driver Updates | ✔ |
| NVIDIA DGX-2 Firmware Updates | ✔ |
| Hardware Support | 1 or 3 year subscription |
| Hardware SLA (replacement parts shipped) | 1 business day |
| Online Access | NVIDIA Enterprise Support Portal |
| Phone Hours | 24×7 |
| Knowledgebase | ✔ |
---
What's Included in NVIDIA DGX-2 Support
Access to the latest software updates and upgrades
Direct communication with NVIDIA technical experts
NVIDIA cloud management: container repository, container management, job scheduling, and system performance monitoring and new software updates
NVIDIA knowledge base with how-to articles, application notes and product documentation
Rapid response and timely issue resolution through support portal and 24×7 phone access
Lifecycle support for NVIDIA DGX-2 Deep Learning software
Hardware support, firmware upgrades, diagnostics and remote and onsite resolution of hardware issues
Next day shipment for replacement parts
Price
System Price: $303,851 (academic pricing, includes 1 year support) to $431,930 (commercial, includes 1 year support)
Final pricing depends upon configuration and any applicable discounts, including education or NVIDIA Inception. Request a custom quotation to receive your applicable discounts.

NVIDIA requires all DGX purchases to include a support services contract. Ensure all quotes you receive include this mandatory DGX support.