A Cluster Management Suite for Microway HPC Clusters
MCMS Features
As Microway's default cluster management option, MCMS is designed to optimize your end-user and administrative productivity. Built atop open-source tools, Microway expertise in hundreds of cluster shipments, and your requirements, MCMS delivers an optimal set of tools so you can make the most of your cluster.
Every MCMS installation supports:
Node Control
Fan Speed and Temperature Measurement
Maintenance Execution on one or Many Nodes
Visual and email alerts based upon cluster conditions
Ganglia-based node monitoring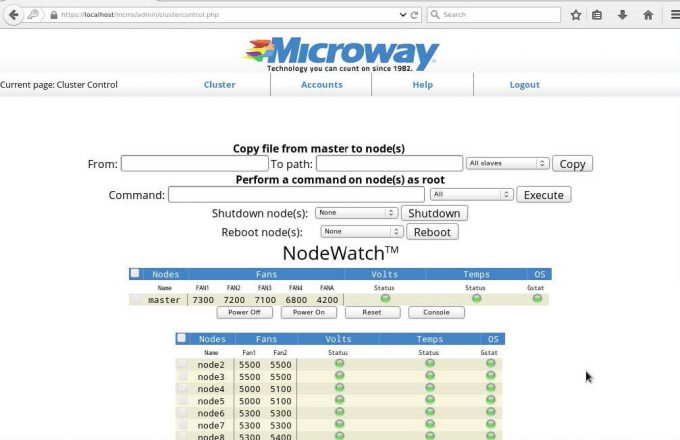 Single-Pane Monitoring
See the temperatures, fan speed, utilization and operational status of your entire cluster in a single window
Rapid Node Deployment
MCMS NodeRestore allows you to deploy OS, application images across the cluster or distribute updates
Easy Backup
MCMS NodeBackup allows you to save key cluster software images, application mixes, or known-good configurations
Simple BIOS/Firmware Updates
MCMS allows you to remotely update the BIOS and Firmware of your entire cluster, without entering the datacenter
Email and Visual Alerts
Helps you determine when your cluster isn't operating properly through condition-based cluster alerts
Direct Node Control
Quickly launch a console or KVM instance directly into any compute node in your cluster
Questions and Price Inquiries
MCMS is available exclusively for Microway clusters. If you would like to learn more please contact one of our HPC experts.