Supercharge your next cluster with NVIDIA® H100, A100, L40, or A30 GPUs
Microway NVIDIA GPU Clusters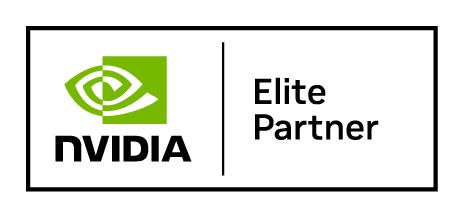 Microway's fully integrated NVIDIA GPU clusters deliver supercomputing & AI performance at a lower power, lower cost, and using many fewer systems than CPU-only equivalents. These clusters are powered by NVIDIA H100, A100, L40, or A30 GPUs. NVIDIA datacenter GPUs scale to solve the world's most important computing challenges more quickly and accurately.
Successfully deployed in demanding applications at research institutes, universities, and enterprises, NVIDIA GPUs power the most powerful supercomputers worldwide.
Installed Software
A Microway NVIDIA GPU cluster comes installed, integrated, and tested with:
Linux distribution of your choice, including Red Hat, Rocky, Ubuntu, Debian, openSUSE or Gentoo
NVIDIA HPC SDK and CUDA® SDK
Optional NVIDIA AI Enterprise for AI Clusters
NVIDIA Bright Cluster Manager, OpenHPC, or Microway Cluster Management Software (MCMS™) integrated with optional MPI Link-Checker™ Fabric Validation Suite
Optional User-level application and library installations
What Makes a Microway Cluster Different?
Expert Guidance, Expert Design
Share the details of your application or code. Microway experts will help you evaluate hardware platforms for your application. Then, they'll help design a custom configuration tuned to your specific needs and budget.
Intensive Burn-in Testing
Every Microway cluster receives up to 1 week of burn-in testing. This includes GPU stress tests designed to identify hardware faults and "infant mortality." Your cluster is qualified at our facility, not yours. So you can get to work faster.
Complete Software Integration
Our team integrates all the drivers, packages, and SDKs that enable you to start working from day 1. Your cluster is also delivered with GPU-aware cluster management software and schedulers tested on real accelerated HPC/AI jobs.
Our Experience in GPU Systems
We've been delivering NVIDIA GPU Clusters for longer than NVIDIA datacenter GPUs have existed. Microway has hundreds of satisfied customers & thousands of GPUs in the field, and we'll apply that expertise to your successful deployment.
Sample Microway NVIDIA GPU Cluster Specifications
High Density PCI-E
High Density with NVLink
Balanced & Flexible
Max GPUs
Max GPUs+NVLink
CPU:GPU Coherence
Supported for Life
Our technicians and sales staff consistently ensure that your entire experience with Microway is handled promptly, creatively, and professionally.
Telephone support is available for the lifetime of your cluster by Microway's experienced technicians. After the initial warranty period, hardware warranties are offered on an annual basis. Out-of-warranty repairs are available on a time & materials basis.
Microway's Tesla GPU Solutions