Data drives every HPC implementation, and Microway offers storage platforms ready for your demanding reliability and performance needs. Every storage platform passes comprehensive storage benchmark testing to ensure your increased capacity is rock-solid, out of the box. It if doesn't meet our strict standards, we won't ship it.
Storage Servers with Enterprise Class Drives and Hardware RAID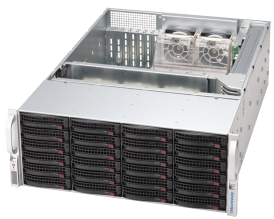 For users who prefer a single storage server with excellent performance and reliability, we offer storage with 3.5" or 2.5" enterprise class hard drives, high performance RAID controllers, and redundant power supplies. We build these storage platforms at extremely competitive cost per terabyte. Our platforms are available with:
Areca or LSI controllers tuned for performance. All support basic automated notification capability for simpler administration
InfiniBand (FDR, QDR), 10/40GigE uplinks for fast throughput to your compute resources
Discrete (performance) or expander (capacity+performance) based backplanes configured to your needs
Double sided chassis for density: meets your strict rackmount space requirements
Mid-Tier Storage with ZFS
Our mid-tier storage offerings include a choice of storage management front-end that helps make storage administration simpler yet more powerful. Building upon our storage server offerings, we can deliver their reliability and power paired with increased ease of use and enterprise-level features:
Custom-built with your preferred storage OS
iSCSI support over your preferred pipe (Ethernet, FC, InfiniBand)
Backup, cloning, replication, snapshotting, and thin provisioning features
Sophisticated automated notifications for administrators
Optional storage tiering with many storage OS implementations
NetApp Enterprise Storage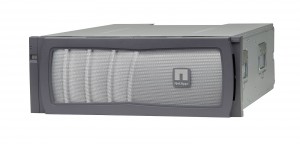 NetApp enterprise storage platforms are the gold standard for a reason: they deliver on performance, reliability (99.999%), and innovative features.
Leading software front-end with NetApp ONTAP software. Automatic storage tiering when SSDs and spindle drives are installed
Built from the ground up as storage appliances— even allows seamless switching from SAN to NAS implementations
Effortless scaling of storage when you add more NetApp fliers
Snapshotting, deduplication, thin-provisioning are all built-in
Available with 24/7 technical support coverage and robust SLAs
Our storage expertise ensures that you spend your time accomplishing your work, not worrying about your data.
We'll listen to your needs – call a sales person who speaks your language.