Incredible COMSOL Performance, Quietest Configuration Available
Microway experts, backed by years of architecting for COMSOL and testing of real world COMSOL models, will challenge convention and deliver you a better workstation for COMSOL. WhisperStation for COMSOL custom configurations deliver top-end performance at mid-level pricepoints: for example, by recommending mid-range CPUs that are very-well suited to COMSOL workloads.
We'll recommend where to put your upgrade dollars—and even steer you away from higher cost choices which would be a detriment to performance.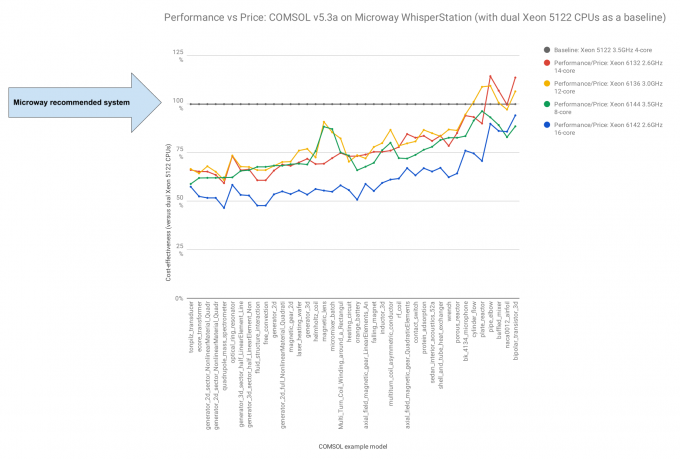 Optimized for COMSOL's Performance
WhisperStation for COMSOL prioritizes memory speed first, the most important determinant of time to solution.
Built with COMSOL-Tuned CPU Choices
We configure with CPUs that perform for COMSOL solvers – with the high clock speeds and loads of memory bandwidth they need.
Fast Scratch for Models
All WhisperStation for COMSOL configurations include a fast SSD to ensure models being loaded into memory, and solver writes, can be performed as rapidly as possible.
Options for Increased Parallelization, Only When it Delivers
Don't spend more money for less performance. WhisperStation for COMSOL configurations don't climb a costly core count ladder— instead we recommend only the models that perform.
Quietest COMSOL Workstation Available
Our team delivers the quietest possible workstations. Features include noise isolation material, silent fans, liquid cooling where appropriate, and careful chassis choices.
Leading Graphics for Visualization of Your Models
WhisperStation for COMSOL configurations include an NVIDIA Quadro GPU for model visualization. Based upon the complexity of your simulations, we'll recommend which Quadro GPU is best.
Features
Quiet! Most configurations are barely audible when placed beside your desk.
Special High Clock Speed Processors that are optimal for COMSOL solvers
Up to 4 TB DDR4 memory
Fixed or hot-swap drive bays for hard drives and NVMe SSDs
Energy-efficient. Compatible with standard home and office electrical outlets.
Reliable! Customers commonly use WhisperStations for 5+ years.
Benchmarks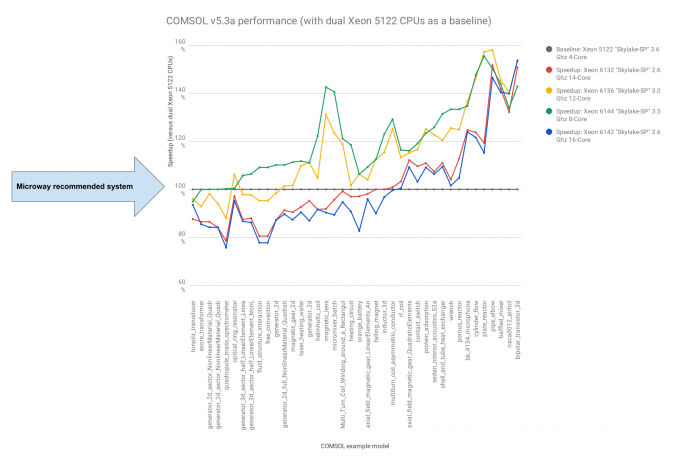 Specifications
Intel 3rd Gen Xeon Scalable Processor "Ice Lake-SP" CPUs (clock speed: up to 3.6 GHz)
Eight-Channel 3200 Mhz ECC/Registered Memory for 3rd Gen Xeon Scalable Processor configurations
Professional Graphics with NVIDIA RTX™ Professional GPUs
SATA, PCI-E or NVMe SSD for fast COMSOL scratch space
(4) Fixed or Hot-Swap 3.5″ 6Gbps drive bays
Dual integrated Gigabit Ethernet ports
Removable Storage:

CD, DVD Read / Write / Re-Write (optional Bluray)
Front USB 2.0 ports and and rear USB 3.0 ports
Optional Thunderbolt

High-efficiency 80 PLUS certified quiet power-supply
Accessories/Options
Expand storage capacity up to 864 TB+
UPS power backup and surge suppression
10/25/50/100G Ethernet, ConnectX-6 200G HDR InfiniBand
Multiple LCD Monitors, 4K Displays or 3D Displays
Support
Supported for Life
Our technicians and sales staff consistently ensure that your entire experience with Microway is handled promptly, creatively, and professionally.
Telephone support is available for the lifetime of your workstation by Microway's experienced technicians. After the initial warranty period, hardware warranties are offered on an annual basis. Out-of-warranty repairs are available on a time & materials basis.
Price
System Price: $7,900 to $16,700
Each Microway system is customized to your requirements. Final pricing depends upon configuration and any applicable educational or government discounts.