Purpose-built Workstation for Deep Learning AI
NVIDIA's DGX Station workstations offer exceptional performance for deep learning and AI. The DGX Station brings NVIDIA's groundbreaking AI capability to your desk.
Each workstation arrives fully integrated with NVIDIA's NGC Deep Learning software stack: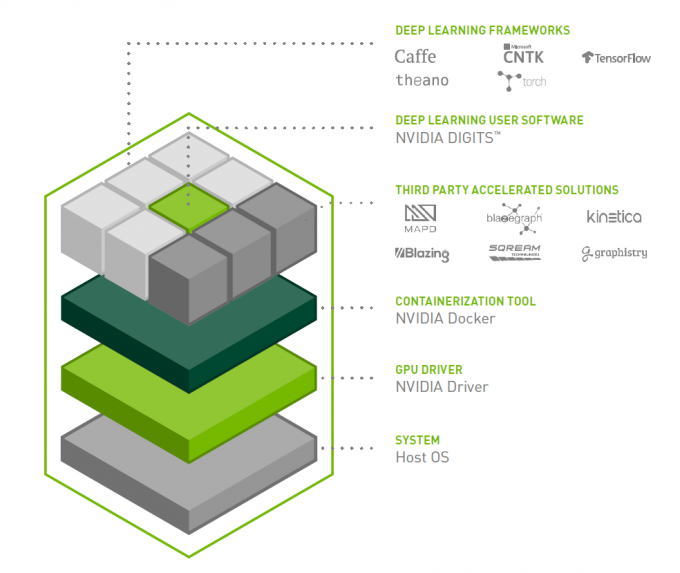 The NVIDIA DGX systems will also integrate with NVIDIA's upcoming cloud capabilities, which offer mobility and flexibility (running locally at your DGX Station, in the datacenter on your DGX-1, or in the cloud). Additional frameworks and software updates will be released via NVIDIA's online application repository.
Microway is an NVIDIA Elite Solution Provider, high performance computing expert, and approved reseller for all DGX systems.
NVIDIA DGX Station
4 NVIDIA Tesla V100 "Volta" GPUs with NVLink 2.0 links
20,480 NVIDIA CUDA cores, total
2,560 NVIDIA Tensor cores, total
Total of 64GB high-bandwidth GPU memory
480 TFLOPS FP16 half-precision performance
NVIDIA-certified & supported software stack for Deep Learning workloads
One 20-core Intel Xeon E5-2698v4 CPU
256GB DDR4 System Memory
Dual X540 10GbE Ethernet ports (10GBase-T RJ45 ports)
Four 1.92TB SSD (one for OS and three in RAID0 for high-speed cache)
Quiet, liquid-cooled tower form factor (<35dB for office use)
Power Consumption: 1500W at full load (for standard office electrical outlet)
Ubuntu Desktop Linux operating system
Onsite installation and integration by Microway's HPC experts
High-speed storage connectivity for data sets ranging from TeraBytes to PetaBytes in size
NVIDIA DGX Part Numbers
985-22587-2510-D00 – NVIDIA DGX Station for Commercial and Government institutions
plus
718-22587-2510-001 – 1 year support for NVIDIA DGX Station (Commercial/Government)
718-22587-2510-003 – 3 year support for NVIDIA DGX Station (Commercial/Government)
718-22587-2510-ED1 – 1 year support for NVIDIA DGX Station (Education)
718-22587-2510-ED3 – 3 year support for NVIDIA DGX Station (Education)
Microway offers installation and integration service. NVIDIA provides services for NVIDIA DGX bundled software and hardware.
NVIDIA DGX support provides you with comprehensive system support and access to NVIDIA's cloud management portal to get the most comprehensive services from your NVIDIA DGX system. Streamline deep learning experimentation by leveraging containerized application management, launch jobs, monitor status and get software updates with NVIDIA cloud management.
System Price: $69,000 (plus support service cost)+
Each Microway system is customized to your requirements. Final pricing depends upon configuration and any applicable educational or government discounts.
To learn more, or to place an order and reserve your spot in the production queue, please enter your information below: