Greater core counts, faster memory bandwidth, and up to two times HPC application performance in CPU benchmarks
March 27, 2020–Plymouth, MA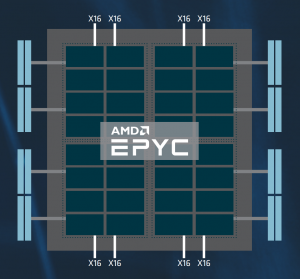 Microway, a leading provider of computational clusters, servers, and workstations for AI and HPC applications, announces it has delivered a full-scale 2nd Gen AMD EPYC processor-powered cluster to a major insurance company. Refreshing their existing cluster gave the company more than double the compute cores they had previously, far superior memory bandwidth, and PCIe® 4 capabilities to drive vastly improved HPC application performance.
Featuring dual/redundant head nodes to manage and operate it, the new cluster has a total of 2,816 processor cores, a total of 11TB memory, and a 2GB/s scratch storage device in each node. Also included is Mellanox 100G EDR InfiniBand connectivity between all nodes.
In addition to supplying the cluster, Microway architected a 64-port fabric that optimizes cost without affecting overall workload performance. The fabric minimizes switch count without sacrificing latency and was validated to meet the application bandwidth need—as well as supplies additional ports for cluster growth and to link in parallel storage.
No Cost Remote Benchmarking for Cluster Drives Technology Selection
Working with Microway experts, the company used Microway's test drive cluster at no cost to test the 2nd Gen AMD EPYC processors and conduct an evaluation of how they ran with the latest CFD application offerings and in-house code. This offering is available to any Microway cluster opportunity in North America.
Based on a head to head comparison, the 2nd Gen AMD EPYC CPU-based cluster came out ahead of existing x86 architecture-based cluster nodes and cloud offerings. The rigorous evaluation process provided a high level of confidence in the company's decision to deploy in-house resources to meet their exacting performance specifications.
"We are excited to announce this deployment of an extremely cost-effective and high-performance cluster powered by 2nd Gen AMD EPYC processors," said Eliot Eshelman, VP of HPC Initiatives at Microway. "The 2nd Gen AMD EPYC processors deliver fantastic performance and hold many CPU benchmark world records. Moreover, future generations of AMD EPYC CPUs will be at the heart of the US Department of Energy's Oak Ridge National Laboratory (ORNL) Frontier and Lawrence Livermore National Laboratory (LLNL) El Capitan exascale supercomputers."
Full Portfolio of AMD EPYC Based Solutions
Microway now offers a comprehensive portfolio of 2nd Gen AMD EPYC Processor-based solutions. These include WhisperStation quiet workstations in single and dual-socket configurations, the Navion 2U Twin² cluster nodes used in this deployment, and a complete line of Navion 1-4U AMD EPYC CPU-based servers. These solutions can incorporate GPU accelerators with the advantages of PCIe 4.
Microway Navion 2nd Gen AMD EPYC CPU-based clusters are available for a wide array of applications. Experts can tailor the compute nodes, fabric architecture, and parallel storage to specific workload requirements. Cluster sizes can seamlessly scale into the tens of thousands of cores.
Rather than navigate complicated Tier 1 vendor organizations, Microway customers are always assigned a dedicated technical architect who "Speaks HPC & AI." The result is a superior engagement and often a far superior technical design.
For customers who are considering AMD EPYC processor solutions, Microway technical advisors can walk them through the potential advantages of the platform and architect a custom solution. In addition, an in-depth technical review of the technology is available on Microway's HPC Blog: 2nd Gen AMD EPYC  CPUs: A Groundbreaking Leap for HPC.
About Microway, Inc.
Microway builds solutions for the intersection of AI and HPC.  These include supercomputers, clusters, servers and quiet workstations designed for bleeding-edge computational performance. These products serve demanding users in the enterprise, government, and academia.
Since 1982, customers have trusted Microway to deliver unique and superior deployments—enabling them to remain at the forefront of supercomputing and solve the world's toughest challenges. Microway's strategic partners include NVIDIA, Intel, AMD, DDN, Mellanox, NetApp, and IBM. Classified as a small business, woman owned and operated, Microway's GSA Schedule is GS-35F-0431N.
AMD, the AMD Arrow logo, EPYC and combinations thereof are trademarks of Advanced Micro Devices, Inc.