HPC & AI solution provider to deliver world's most advanced AI system to the University of Florida
May 20, 2020–Plymouth, MA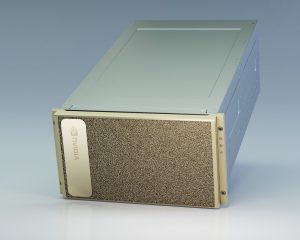 Microway, a leading provider of advanced hardware for AI and HPC, announces it is delivering the first NVIDIA DGX A100 system to a higher education institution in the United States. DGX A100 is the world's first 5 petaflops AI system to consolidate the power and capabilities of an entire data center, supporting analytics, training and inference in a single flexible platform.
The University of Florida will install multiple DGX A100 systems to accelerate AI research as the university works to infuse AI across its curriculum. The systems will be used to explore and validate how new technology can meet the University of Florida's advanced research and education projects in artificial intelligence and deep learning—including on the Deep Cloud and PRISMA projects. The deployment will include the DGX A100 systems, as well as Microway software integration and deployment services to ensure easy adoption and integration of AI into the university's infrastructure.
"The University of Florida is doing critical work in advancing AI, and Microway is ensuring that their DGX A100 systems support students and faculty as quickly as possible," said Ann Fried, CEO of Microway. "AI is rapidly transforming all industries, and Microway is ready to support AI adoption with our expertise in delivering the world's most advanced AI system – the NVIDIA DGX A100."
An NVIDIA Partner Network member, Microway is ready to support organizations and enterprises seeking to adopt AI with DGX A100 systems at launch. Customers in all domains, not just higher education, can leverage Microway's AI and DGX systems delivery expertise to get started with the latest AI system from NVIDIA as rapidly as possible.
About Microway, Inc.
Microway builds solutions for the intersection of AI and HPC.  These include supercomputers, clusters, servers and quiet workstations designed for bleeding-edge computational performance. These products serve demanding users in the enterprise, government, and academia.
Since 1982, customers have trusted Microway to deliver unique and superior deployments—enabling them to remain at the forefront of supercomputing and solve the world's toughest challenges. Microway's strategic partners include NVIDIA, Intel, AMD, DDN, Mellanox, NetApp, and IBM. Classified as a small business, woman owned and operated, Microway's GSA Schedule is GS-35F-0431N.