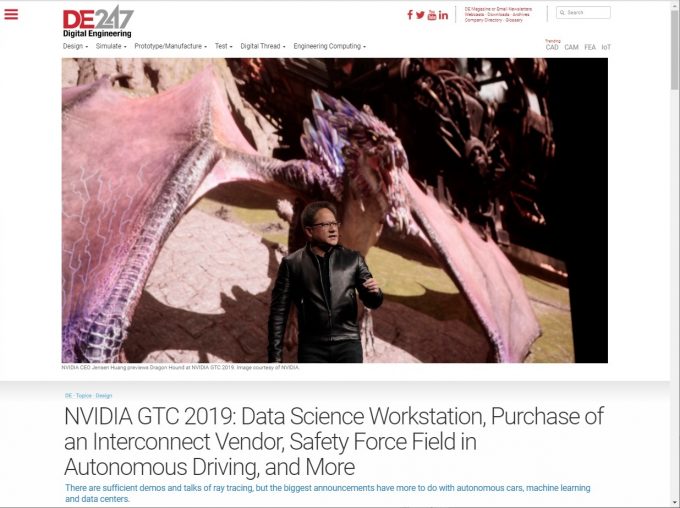 In an article summarizing the latest launches at GTC2019, Digital Engineering references Microway's Data Science WhisperStation as a key offering of NVIDIA's new Data Science Workstation Program.
At the one hour mark in the keynote, Huang unveiled the NVIDIA Data Science Workstation, powered by Quadro RTX GPUs and CUDA-X AI, a collection of software acceleration libraries.
Different versions of the Data Science Workstation is expected to come from NVIDIA's partners, such as Dell, HP, Lenovo, and others. Within the bounds of what NVIDIA prescribes as a Data Science Workstation, partners have room to configure their own versions with different memory capacity, CPU choices, and throughputs.
Microway, one of the exhibitors at the show, demonstrated its version of the workstation, called the Data Science WhisperStation.
"Our spin on this workstation, is that we do this very quietly," explained Brett Newman, Microway's VP or marketing. "We can fit in as many as four RTX GPUs, with each GPU pair connected by NVLink, up to a Terabyte of memory."
With multiple processors, workstation noise and power consumption could become a serious issue. Microway's WhisperStations are known for being able to run with minimal noise.
Read the Digital Engineering Article on GTC 2019.