NumberSmasher Intel Xeon Solutions from Microway
Microway delivers Intel Xeon cluster, server, and workstation solutions for HPC & AI. As an Intel Titanium OEM Patner and HPC Datacenter Specialist, our experts can design, integrate, and deliver you superior designs for any demanding computing requirement.
Intel Xeon-Based Solutions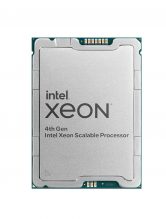 Intel Xeon CPUs are the dominant server CPUs by shipment worldwide today. Increased core count, increased memory bandwidth, new instructions, and the latest I/O features ensure the 4th Gen Intel Xeon Scalable Processors deliver the throughput your demanding applications need.
Intel's 4th Gen Xeon Scalable "Sapphire Rapids-SP" architecture improves each of these aspects and ushers in a new CPU core architecture for improved integer and floating point performance. Optimized for cloud, enterprise, AI, HPC, network, security and IoT workloads, 4th Gen Intel® Xeon® Scalable processors come with 8 to 60 powerful cores at a wide range of frequency, feature and power levels.
New "Sapphire Rapids-SP" CPU Architecture
Improved integer and floating point, faster UPI links, and more memory per socket. Brand new AMX instructions for superior AI training performance
Increased Core Count: up to 60 cores
Higher core count for the top model and more cores for SKUs in the middle of the stack for HPC
50% More Memory Bandwidth
Support for the latest generation of DDR5-4800 DIMMs improves memory bandwidth per socket by 50% over the previous generation
Transformative I/O with PCI-E Gen 5 and CXL 1.1 support
Deliver 2X the bandwidth to storage, accelerators, and fabric devices with PCI-E Gen5 + support new coherent accelerator and memory interconnects with CXL
Support and Programming Resources