Microway's A100 GPU servers offer higher performance and enable new capabilities for HPC, Data Analytics, and AI workloads. Given the increasingly wide use cases for GPUs, Microway offers a variety of high-performance and flexible A100 GPU servers. And our experts are available to help you weigh the benefits, review the costs, and select the right configuration for your needs. Here are selected highlights of the A100 GPU: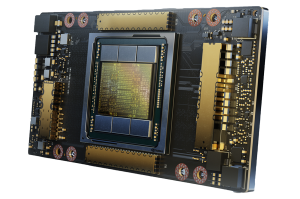 Multi Instance GPU (MIG)
Allows each A100 GPU to run seven separate & isolated applications or user sessions
Improved compute performance for HPC
Up to 9.7 TFLOPS FP64 double-precision floating-point performance (19.5 TFLOPS via FP64 Tensor Cores)
Improved performance for Deep Learning
Speedups of 3x~20x for neural network training and 7x~20x for inference (vs Tesla V100)
Bigger & Faster GPU memory
40GB of high-bandwidth memory operating at 1.6TB/s
Faster connectivity
3rd-generation NVLink provides 10x~20x faster transfers than PCI-Express
As with previous NVIDIA datacenter GPUs, two different flavors of the A100 are available:
SXM module with NVLink – a high-density form factor designed for speed and performance
Standard PCI-Express card – a backwards-compatible GPU design
Microway servers and clusters are available with both varieties, and our experts are happy to assist you in determining which is best suited for you. There are many choices, but our team has the experience to recommend the correct configuration for you. The information below summarizes the best options for deployments of A100 GPUs. We start with the NVLink-connected systems, which are best for large HPC/AI runs (with all GPUs working together on the same application). We then summarize the more general-purpose GPU systems with the PCI-E card version of the A100 GPU.
If you wish to learn more about the technical specifications of NVIDIA's A100 GPU, please see our knowledge center article with a breakdown of A100 capabilities and comparison of each model.
A100 GPU Servers with NVLink Connectivity
NVLink-connected systems are ideal for applications which run across several GPUs simultaneously (such as demanding HPC applications and most deep learning applications – TensorFlow, PyTorch, etc). The NVLink connectivity allows the GPUs to coordinate and share data as efficiently as possible.
With the new "Ampere" GPU architecture, NVIDIA doubled the throughput of NVLink. Compared to traditional PCI-Express 3.0, NVLink is now twenty times faster. This offers significant performance benefits to any application running across multiple GPUs, as data can be quickly transferred between GPUs. We offer the following A100 servers leveraging NVLink:
Microway's A100 GPU server with NVLink provides two CPUs, four GPUs, and fast storage & I/O connectivity within a 2U rackmount server. These systems enable high-density compute and leverage the latest HPC and connectivity technologies. Microway's team will help you deploy these as standalone servers or as part of a turn-key cluster with full connectivity between each node. Ideal for those who require NVLink, but will bring their own software stack.

(2) AMD EPYC CPUs
(4) A100 GPUs with NVLink mesh

The DGX A100 is NVIDIA's purpose-built platform for HPC and AI. DGX hardware – combined with highly-optimized software containers – provides the best performance when training neural networks and running production-scale inference workloads. The NVIDIA DGX A100 delivers the fastest GPU performance available in the world. Each DGX may also be shared between a diverse group of users and applications via NVIDIA MIG and integration with Kubernetes or SLURM. Ideal for those who require NVLink and wish to leverage both NVIDIA's subject matter experts and NVIDIA's pre-optimized software stacks.

(2) AMD EPYC CPUs
(8) A100 GPUs with NVSwitch providing full NVLink throughput across GPUs
---
A100 GPU Servers with PCI-Express Connectivity
NVIDIA's A100 GPUs are also available as add-in cards with standard PCI-Express connectivity. This is typically desirable in more general-purpose deployments, in cases where the user applications are not heavily GPU-accelerated, or in cases where each application/user will not need more than a single GPU. These A100 GPU servers are highly cost-effective, with one to eight GPUs per server.
In supported platforms, the PCI-E version of A100 is able to support a limited variety of NVLink between pairs of GPUs (though there is no way to connect larger numbers of the GPU cards). This supports applications which might be able leverage two GPUs, but are not optimized for larger numbers of GPUs. If your GPU applications support four or more GPUs per run, please consult with our experts and consider moving to a fully-NVLinked configuration as shown above.
Microway's 4U Navion A100 GPU server provides two CPUs, eight GPUs, and fast storage & I/O connectivity within a 4U rackmount server. These systems provide robust flexibility supporting a variety of add-on devices in addition to the A100 GPUs. The AMD EPYC CPUs support a large number of high-speed PCI-E devices, be they storage, networking, or compute. Ideal for clusters that expect many single-GPU or dual-GPU jobs, as well as clusters that need to be customized for best application performance (e.g., engineering simulation).

(2) AMD EPYC CPUs
(8) A100 PCI-Express GPUs

Microway's 2U Navion Single-Socket A100 GPU server provides one CPU and eight GPUs. These servers are optimized for the most highly GPU-accelerated applications – cases where each GPU needs only a handful of CPU cores. Ideal for applications that are well optimized for GPU-acceleration and need relatively few CPU cores.

(1) AMD EPYC CPU
(8) A100 PCI-Express GPUs
---
Summary of A100 GPU platforms
Feature
Navion 2U with NVLink
NVIDIA DGX A100
Navion 4U 8-GPU PCI-E
Navion 2U 8-GPU PCI-E
GPU
(4) NVIDIA A100 SXM4
(8) NVIDIA A100 SXM4
(8) NVIDIA A100 PCI-E
Total GPU Memory
160GB
320GB
GPU NVLink
mesh between GPUs
fully-connected
only between pairs
n/a
CPU
(2) AMD EPYC
(1) AMD EPYC
System Memory
up to 4TB
up to 2TB
up to 4TB
up to 1TB
Drive Bays
(4) Hot-Swap NVMe
(8) Hot-Swap NVMe
(24) Hot-Swap 2.5″
(with up to four NVMe drives)
(8) Hot-Swap 2.5″
Rack Height
2U
6U
4U
2U
Product page
view
view
view
view
* Additional platforms supporting A100 GPUs are expected in coming months
---
Test A100 GPUs for Yourself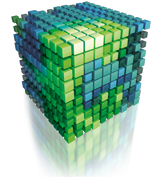 Microway maintains a state-of-the-art benchmark cluster with the latest HPC systems and interconnect. Whether you need to test NVLink vs PCI-Express, GPU vs CPU, or various generations of datacenter GPUs, we will help you evaluate their performance. See for yourself how the systems compare – sign up to test drive the A100 GPU before you purchase.