Many-Core High Performance Computing with Xeon Phi Processors
Intel Xeon® Phi™ processors provide more efficient performance than traditional CPUs. They include many more and smaller cores, many more threads, and wider vector units well suited to highly parallel workloads. NumberSmasher-Phi clusters leverage the Intel Xeon Phi 7200-series "Knights Landing" processors. Combined with Intel Omni-Path interconnect, and the rest of the Intel Scalable Systems Framework, Xeon Phi is part of the ideal design for many-core, scale-out HPC supercomputers.
Installed Software
Microway NumberSmasher-Phi clusters come preinstalled with:
Linux distribution of your choice, including Red Hat, CentOS, or SuSE
Intel HPC Orchestrator, OpenHPC, or Microway Cluster Management Software (MCMS™)
Intel Parallel Studio XE compilers & tools (including Intel Math Kernel Library [MKL])
User-level application and library installations are available for truly turn-key HPC
Sample Microway Xeon Phi Cluster Specification
Flexible cluster with Omni-Path connectivity between all processors
Sample Cluster Size
One fully-integrated 42U rackmount cabinet with
72 Xeon Phi Nodes (5184 x86 processors cores)
Base Platform
High-density 2U NumberSmasher systems, each with four Xeon Phi nodes
System Memory per Node
Up to 768 GB DDR4 2400MHz / 2133MHz
On-package Processor Memory
16GB high-bandwidth MCDRAM memory
Head Node
Dual Xeon Server with up to 3 TB memory
Storage
Head Node: up to 360 TB Compute Nodes: up to 30 TB Optional Dedicated Storage Servers or Parallel HPC Storage System
Network
Dual Gigabit Ethernet built-in
Interconnect (optional)
High-speed 100Gbps Omni-Path fabric
Cabinet
42U APC NetShelter Cabinet
(extra-wide model recommended for node hot-swap)
Green HPC Features
High-efficiency (80PLUS Platinum-Level) power supplies
Software/firmware to reduce power consumption on idle cores
Optional liquid cooling of nodes
Optional liquid-cooled rack doors (for thermally-neutral HPC)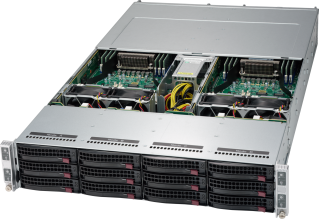 Supported for Life
Our technicians and sales staff consistently ensure that your entire experience with Microway is handled promptly, creatively, and professionally.
Telephone support is available for the lifetime of your cluster by Microway's experienced technicians. After the initial warranty period, hardware warranties are offered on an annual basis. Out-of-warranty repairs are available on a time & materials basis.