NVIDIA Maximus for Design and Rendering Professionals
WhisperStation- Maximus for 3D Design unleashes the interactive potential of industry-leading applications like Bunkspeed, Maya, and 3ds Max. The graphics and computing power of NVIDIA Quadro® and Tesla® GPUs minimizes rendering times and maximizes interactivity to speed your creative process.
In ultracompetitive markets, it's critical to shorten design cycles and present designs in their most compelling format. Digital prototyping provides an invaluable tool that allows designers to iterate and visualize extremely quickly and accurately. Accurate rendering enables nearly any designer to achieve photorealistic results.

With Maximus technology, you can perform rapid photorealistic rendering of your designs in applications such as 3ds Max or Bunkspeed while still using your system for other work.
Continue to design while rendering up to 8x faster in the background
Design and render on a single machine without bogging it down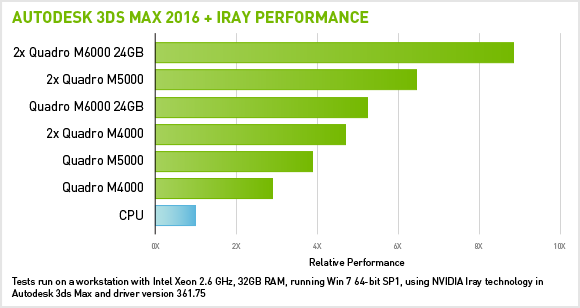 Superior design speed to traditional workstations
Quiet WhisperStation configuration
NVIDIA Quadro M5000
Single Intel Xeon E5-1620v3 CPU (4 cores @ 3.5Ghz)
16GB DDR4-2133Mhz memory
120GB SSD (OS and Scratch) and 2TB Enterprise-Class Hard Drive (Bulk Data)
Cool and Quiet with 80%+ Efficient Power Supply
Improved acceleration and larger jobs
Quiet WhisperStation configuration
Dual NVIDIA Quadro M6000
Single Intel Xeon E5-1620v3 CPU (4 cores @ 3.5Ghz)
32GB DDR4-2133Mhz memory
120GB SSD (OS and Scratch Drive) and 2TB Enterprise-Class Hard Drive (Bulk Data)
Cool and Quiet with 80%+ Efficient Power Supply
For the largest, most computationally intensive jobs
Quiet WhisperStation configuration
3 x NVIDIA Quadro M6000
Dual Intel Xeon E5-2667v4 CPUs (16 cores @ 3.2Ghz)
64GB DDR4-2133Mhz memory
120GB SSD (OS and Scratch Drive) and 2TB Enterprise-Class Hard Drive (Bulk Data)
Cool and Quiet with 80%+ Efficient Power Supply