Experience unprecedented performance, scalability and security for every data center
In partnership with NVIDIA + Supermicro, we're offering an opportunity to test the latest NVIDIA H100 Tensor Core GPUs remotely to qualified customers.
The NVIDIA H100 Tensor Core GPU enables an order-of-magnitude leap for large-scale AI and HPC. With NVIDIA AI Enterprise for streamlined AI development and deployment, NVIDIA H100 accelerates everything from exascale scale workloads utilizing the dedicated Transformer Engine for trillion parameter language models, down to right-sized Multi-Instance GPU (MIG) partitions.
Test drive systems with NVIDIA H100 GPUs to experience an end-to-end AI and HPC data center platform.
Fast time-to-value
Test on a turnkey AI solution with NVIDIA AI Enterprise, NVIDIA H100, and NVIDIA-Certified Systems. Receive your login to a testing system rapidly.
Boost performance and efficiency
Boost your AI training performance, especially on large models, with NVIDIA H100's Transformer Engine and achieve the highest efficiency and security with 2nd gen MIG and confidential computing.
Scale with ease with the latest GPUs
Service your entire AI pipeline on one infrastructure— with the increased scalability of the latest GPUs and superior AI software
Experience Enterprise-Ready AI
Utilize guaranteed support for streamlined Enterprise AI— with assurance your workloads run on not just this but any NVIDIA certified enterprise datacenter platform.
NVIDIA H100 Systems

Microway Navion 4U GPU Node based upon Supermicro AS-4125GS-TNRT/AS -4125GS-TNRT1: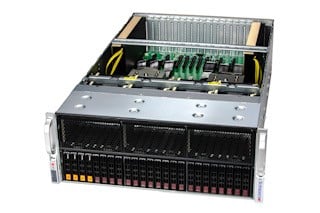 Two NVIDIA H100s installed, with support for up to 8 or 10 NVIDIA H100 80GB PCI-E GPUs
2x AMD EPYC 9000 Series "Genoa" CPUs with 96 Cores each
768GB DDR5-4800Mhz memory
NVIDIA Connect-X InfiniBand HCAs and switching to additional nodes
NVIDIA AI Software
NVIDIA AI Software Configuration
Other Software
Optional Software Configuration
Compatibility with HPC Containers including: NAMD, VMD, GROMACS, LAMMPS, HOOMD-blue, Chroma, MILC, Julia, and more
Compatibility with AI Containers including: Caffe2, MXNet, PyTorch, TensorFlow
Rocky Linux and SLURM Scheduler
MPI & Compilers
MPI & Compiler Software
MVAPICH2 and OpenMPI
NVIDIA HPC SDK
GNU GCC Compiler Collection (multiple versions, as needed) Provides C, C++ and Fortran compilers.
AMD Optimizing C/C++ Compiler (AOCC) Provides C, C++, and Fortran compilers with optimizations for the latest AMD EPYC CPUs
Ready to get started? Sign up now!