NVIDIA Tesla-based systems deliver supercomputing performance at a lower power, lower cost, and using many fewer servers than standard CPU-only compute systems. Successfully deployed in demanding applications at research institutes, universities, and enterprises, NVIDIA Tesla powers the most powerful supercomputers worldwide.
Microway designs customized GPU clusters, servers, and WhisperStations based on the NVIDIA Tesla, Quadro, GeForce and GRID GPUs. We have been selected as the vendor of choice for a number of NVIDIA CUDA centers, including Carnegie Mellon University, Harvard, Johns Hopkins and Massachusetts General Hospital.
While traditionally known for gaming and graphics, today's NVIDIA GPUs deliver record compute speeds for seismic processing, biochemistry simulations, weather and climate modeling, image, video and signal processing, computational finance, computational physics, CAE, CFD, and data analytics.
Unique features available in the latest NVIDIA GPUs include:
Dynamic parallelism – supports GPU threads launching new threads. This simplifies parallel programming by avoiding unnecessary communication between the GPU and the CPU.
HyperQ – enables up to 32 work queues per GPU. Multiple CPU cores and MPI processes are therefore able to address the GPU concurrently.
SMX architecture – provides a new streaming multiprocessor design optimized for performance per watt.
PCI-Express generation 3.0 doubles data transfer rates between the host and the GPU.
GPU Boost increases the clock speed of all CUDA cores, providing a 20% to 30% performance boost for many common applications.
ECC memory error protection – meets a critical requirement for computing accuracy and reliability in data centers and supercomputing centers.
System monitoring features – integrate the GPU subsystem with the host system's monitoring and management capabilities such as IPMI. IT staff can manage the GPU processors in the computing system with widely-used cluster/grid management tools.
Asynchronous transfer with dual DMA engines turbocharges system performance through simultaneous data transfers over the PCI-Express bus while the computing cores are crunching other data.
Many of the most popular applications already feature GPU support. Your own applications may take advantage of GPU acceleration through several different avenues:
"Drop-in" GPU-accelerated libraries – provide high-speed implementations of the functions your application currently executes on CPUs.
Compiler directives – allow you to quickly add GPU acceleration to the most performance critical sections of your application while maintaining portability.
CUDA integrated with C, C++ or Fortran – provides maximum performance and flexibility for your applications. Third-party language extensions are available for a host of languages, including Java, Mathematica, MATLAB, Perl and Python.
Tesla GPU computing solutions fit seamlessly into your existing workstation or HPC infrastructure enabling you to solve problems orders-of-magnitude faster.
Maximum GPU Memory and Compute Performance: Tesla K40 GPU Accelerator
Integrated in Microway NumberSmasher GPU Servers and GPU Clusters
Specifications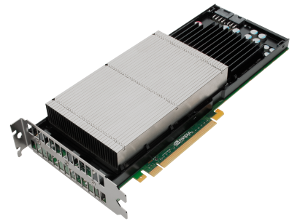 2880 CUDA GPU cores (GK110b)
4.29 TFLOPS single; 1.43 TFLOPS double-precision
12GB GDDR5 memory
Memory bandwidth up to 288 GB/s
PCI-E x16 Gen3 interface to system
Supports Dynamic Parallelism and HyperQ features
Active and Passive heatsinks available for installation in workstations and specially-designed GPU servers
GPU Boost increased clock speeds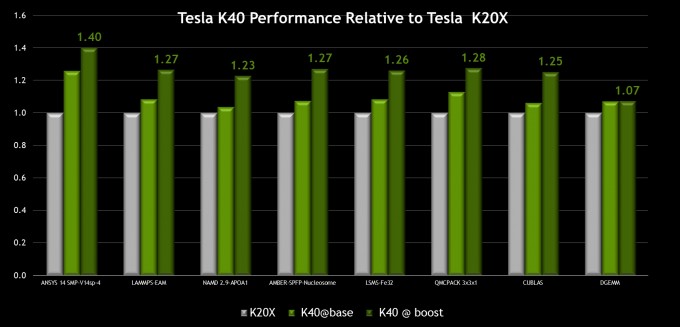 Tesla K20 and K20X GPU Accelerators
Integrated in Microway NumberSmasher and Navion GPU Servers and GPU Clusters
Specifications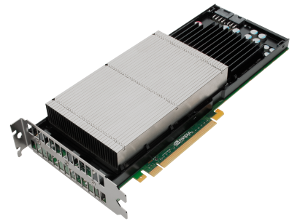 2496 CUDA cores in Tesla K20 (GK110)
2688 CUDA cores in Tesla K20X (GK110)
K20: 3.52 TFLOPS single, 1.17 TFLOPS double
K20X: 3.95 TFLOPS single, 1.32 TFLOPS double
5GB GDDR5 memory per Tesla K20
6GB GDDR5 memory per Tesla K20X
Memory bandwidth up to:
208GB/sec in Tesla K20
250GB/sec in Tesla K20X
PCI-E x16 Gen2 interface to system
Supports Dynamic Parallelism and HyperQ features
Active and Passive heatsinks available for installation in workstations and specially-designed GPU servers
Single-Precision Optimized Tesla K10 GPU Accelerator
Integrated in Microway NumberSmasher and Navion GPU Servers and GPU Clusters
Specifications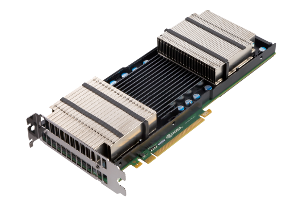 2 x GK104 GPU chips on a single board (PCB)
Total of 3072 CUDA cores and 8GB memory
(each GPU provides 1536 CUDA cores and 4GB GDDR5 memory)
4.58 TFLOPS single-precision
0.19 TFLOPS double-precision
(each GPU provides 2.29 TFLOPS single-precision; 95 GFLOPS double-precision)
Memory bandwidth of up to 160 GB/s per GPU chip (320 GB/s in aggregate)
PCI-E x16 Gen3 interface to system
Passive heatsink relies on chassis cooling of specially-designed GPU servers