NVIDIA GPU Test Drive Program
Verify the benefits of GPU-acceleration for your workloads
Microway offers a benchmark cluster for customers to test GPU-enabled applications. The cluster includes:
Microway NumberSmasher 1U GPU Nodes
Two NVIDIA Tesla K40, K20 or K10 GPUs per node
Two 10-core Intel Xeon E5-2600v2 series "Ivy-Bridge" CPUs in each node
Intel Direct I/O with PCI-E 3.0 support
QDR InfiniBand HCAs and switching
Over 8 TFLOPS Single and 2.8 TFLOPS Double Precision GPU performance per node
CentOS Linux
Pre-configured GPU-enabled software packages, including AMBER, GROMACS, LAMMPS and NAMD
Alternate test configurations available upon request.
Why GPUs?
Unlike traditional CPUs, which focus on general-purpose software applications, Tesla GPUs are designed specifically to provide the highest compute performance possible. The Tesla K40 GPU is the latest and fastest accelerator. Based on the Kepler architecture, it features:
12 GB of memory – enabling 2x larger data sets
GPU Boost – allowing power headroom to be converted into user-controlled performance boost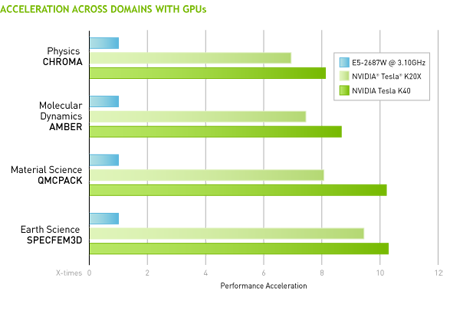 Try today on advanced, fully integrated hardware
Whether you use community-built code or have in-house GPU-accelerated applications, we are offering you remote benchmarking time on our latest hardware. This includes NVIDIA Tesla K40 GPUs with over 3X the performance of previous Tesla GPUs.
See how fast your code can run
To log in and test your code, register above. After registration, you will receive an email with instructions. For any questions, please email wespeakhpc@microway.com.
Tesla GPU Accelerated Applications
NVIDIA Tesla GPU compute processors accelerate many common scientific codes – AMBER, NAMD and LAMMPS are just a few of the applications enjoying significant speed-ups. You can run your own code or one of the preloaded applications.
"With Tesla M2090 GPUs, AMBER users in university departments can obtain application performance that outstrips what is even possible with extensive supercomputing access."
-Ross Walker, Assistant Research Professor at San Diego Computer Center